ALL EVENTS (MONTHLY PROGRAMS & DAY TRIPS) ARE CANCELLED UNTIL FURTHER NOTICE.
Warren County ARTS "At a Glance" Event Schedule for 2020.

Chronologically lists all events (programs, receptions, day trips, shows etc) consolidated by month.
Download PDF for a printable copy.
To be updated once Covid-19 pandemic restrictions are lifted.
Warren County ARTS - 2020 Monthly Program Schedule - (Meetings held at the Oxford Municipal Bldg, 11 Green St., Oxford NJ unless otherwise noted.)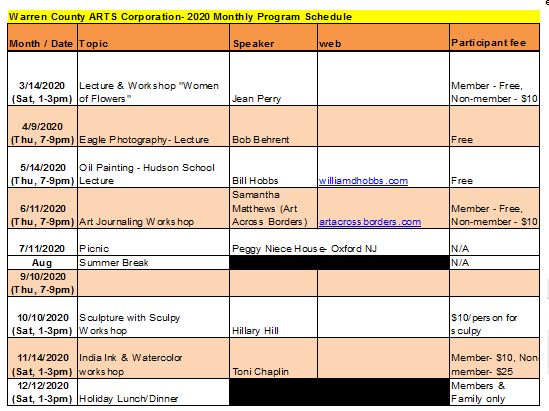 DURING THE WINTER MONTHS WCARTS WILL MEET ON THE 2ND SATURDAY, 1-3PM. SEE MONTHLY PROGRAM SCHEDULE. Meetings will return to 2nd Thursday 7-9pm after the change to Daylight Savings time. Unless otherwise noted all meetings are held in the Oxford Township Municipal building, 11 Green Street, Oxford, NJ 07863.
The public is welcome to all programs and refreshments will be served. Unless otherwise noted, a $4 donation is suggested for non-members attending.
Funding has been made possible, in part, by the Warren County Cultural &Heritage Division of Land Preservation.
Gallery Exhibit schedule 2020
Applications for shows are available to download from the Call for Artists tab.