Monthly Programs- 2017/2018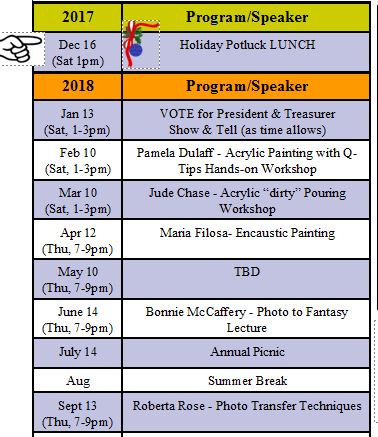 THE DAYS AND TIMES FOR MEETINGS IN 2018 HAVE CHANGED. DURING THE WINTER MONTHS WCARTS WILL MEET ON THE 2ND SATURDAY, 1-3PM. SEE MONTHLY PROGRAM SCHEDULE ABOVE. Meetings will return to 2nd Thursday 7-9pm after the change to Daylight Savings time. Unless otherwise noted all meetings are held in the Oxford Township Municipal building, 11 Green Street, Oxford, NJ 07863.
The public is welcome and refreshments will be served. There will be a $2 fee for non-members wishing to participate.
Funding has been made possible, in part, by the
Warren County Cultural and Heritage Commission.
Gallery Exhibits- 2017/2018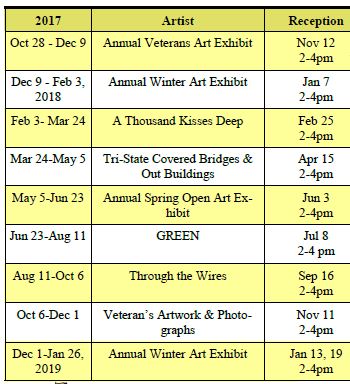 December - Holiday PotLuck Lunch
When: Saturday, December 16, 2017 starting at 1pm
Where: Oxford Municipal Building, 11 Green St., Oxford, NJ
What to bring: Yourself, Family, Friends, a Covered dish or two. Warren County ARTS will provide the ambience for fun, sharing and conversation.
RSVP to Pamela Dulaff and sign up for the dish(s) you will bring .