Monthly Programs, Exhibits & Event Calendar
Warren County ARTS Corporation- 2023 Monthly Program Schedule
Month / Date
Topic
Speaker
Participant fee
Saturday, 1/14/2023
Handmade Book - Chain Link Binding
Pamela Dulaff
Member- Free, Non-member- $25
Saturday, 2/11/2023
Perspective Lecture
Michael Berardesco
Member- Free, Non-member- $5 donation suggested
Saturday, 3/11/2023
Origami workshop
Carrie Dubiel
Member- Free, Non-member- $25
Saturday, 4/08/2023
Poetry Reading & Open Mic
Jane Ebihara
Free
Saturday, 5/13/2023
Pen&Ink Illustration
Workshop
Carl Ohlson
Member- Free, Non-member- $25
Saturday, 6/10/2023
EnPlein Air event: Car Pool to Annual Rose Day Festival
Rudolf W. van der Goot Rose Garden
156 Mettlers Rd., Somerset, NJ
Saturday, 7/15/2023
Picnic
Peggy Niece House
Summer Break
Saturday, 9/09/2023
Eco-Dying
Claire Rohloff
Member- Free, Non-member- $25
Saturday, 10/14/2023
Gouache Workshop
Aida Birritteri
Member- Free, Non-member- $25


Saturday, 11/11/2023
Watercolor Cardinal in Winter Workshop
Jean Perry
Member- Free, Non-member- $25


Saturday, 12/09/2023
Holiday Lunch
Watercolor Cardinal in Winter Workshop with Jean Perry - Saturday, Nov 11th, 1-3pm, Oxford Municipal Building, 11 Green St., Oxford, NJ
Artist/Art Teacher/ member Jean Perry will give us brief discussion about these beautiful birds. which brighten our winter, will be followed by a step-by step presentation which participating artists can follow. Those wanting to create their own unique image of a cardinal can choose a photo from Jean's collection with which to work. Participants are asked to bring watercolor supplies, including pencils, and erasers. Photos of cardinals will be provided. Enter your comfort zone with this relaxing afternoon of art!
Jean has been teaching art for over 40 years to almost every age group. She has developed and taught numerous art programs on both the continuing education and university levels in NJ and PA. She exhibits at various venues and conducts regular monthly classes as Carbon County Environmental Education Center and her church.
This program is free for members, $25 for non-members (pay at the door orregister in advance online using the button below)and was made possible, in part, through a grant from the Warren County Cultural Affairs. Light refreshments will be available & the public is Welcome!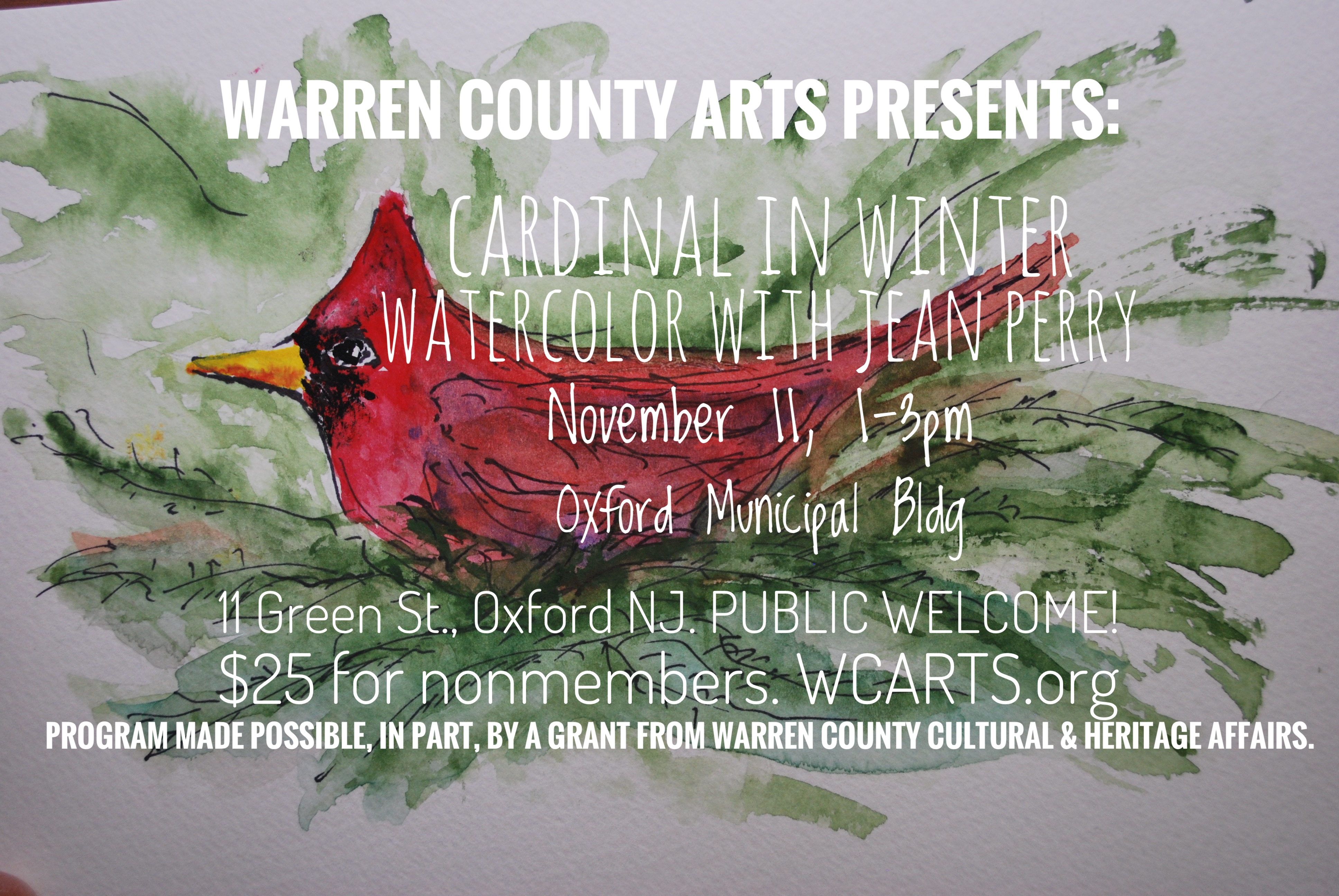 All monthly meetings are on the 2nd Saturday of the month (1-3pm). Unless otherwise noted meetings are held in the Oxford Township Municipal building, 11 Green Street, Oxford, NJ 07863.
Depending onCovid 19 restrictions live programs may limit attendance and Face masks required. Social distancing observed.
Funding has been made possible, in part, by the Warren County Cultural &Heritage Division of Land Preservation.
Warren County ARTS - 2022 Art Exhibit Schedule - (exhibits held at the Oxford Municipal Bldg, 11 Green St., Oxford NJ unless otherwise noted.)
2023 Warren County ARTS Exhibition Schedule
Start
End
Exhibitor
Reception
Title/Theme
Entry Fee
14-Jan-23
4-Mar-23
Jean & Gordon Perry
29-Jan-23
Invitational exhibit
N/A
6-Mar-6
May
Spring Open Juried exhibit
3/26/2023
No Theme
TBD
May 6
July 29
Members only
6/4/23
Something New, Something Old, Something Borrowed, Something Blue
N/A
Aug
Oct 28
Members only
8/6/23
"TRANSPORTATION"
$15 / $30
Oct 29
Jan 6
Members only 11/12/23
Black & White.
N/A