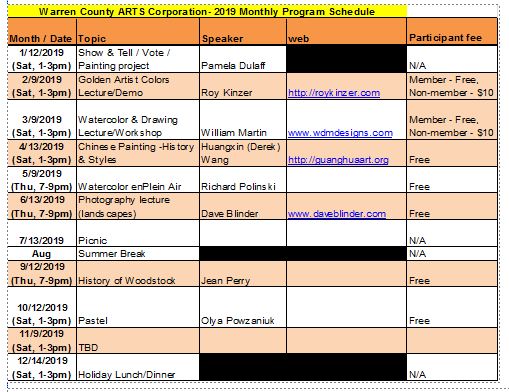 DURING THE WINTER MONTHS WCARTS WILL MEET ON THE 2ND SATURDAY, 1-3PM. SEE MONTHLY PROGRAM SCHEDULE. Meetings will return to 2nd Thursday 7-9pm after the change to Daylight Savings time. Unless otherwise noted all meetings are held in the Oxford Township Municipal building, 11 Green Street, Oxford, NJ 07863.
The public is welcome to all programs and refreshments will be served. Unless otherwise noted, a $4 donation is suggested for non-members attending.
Funding has been made possible, in part, by the Warren County Cultural and Heritage Commission.
March Meeting - William Martin
Join us for the March Program with William (Bill) Martin, Watercolors & Drawing. Mr. Martin will be sharing some recent location paintings and drawings, demonstrating a number of approaches to painting with watercolor, and discussing ways of finding inspiration and influences to help artists find their own way of creating art. Participants will be encouraged to make some art of their own during a hands-on "playing" session as part of the lecture. Watercolor paper and some materials will be available during the session, attendees are also encouraged to bring their own if they have them. More of his work can be found at www.wdmdesigns.com and www.billdrawseverything.com .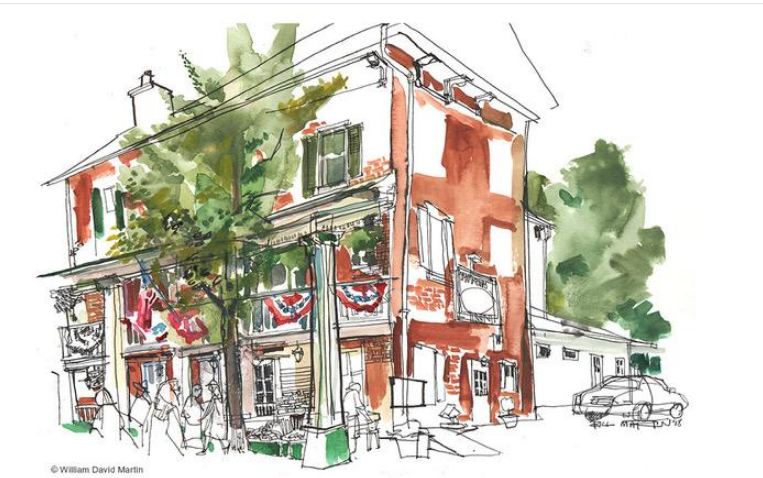 Free for Warren County ARTs members, $10 for visitors.
Saturday Mar 9th, 1-3pm at the Oxford Municipal Building, 11 Green St., Oxford, NJ.
Gallery Exhibit schedule 2019
Applications for shows are available to download from the Call for Artists tab.