Monthly Programs, Exhibits & Event Calendar
Warren County ARTS Corporation- 2023 Monthly Program Schedule
Month / Date
Topic
Speaker
Participant fee
Saturday, 1/14/2023
Handmade Book - Chain Link Binding
Pamela Dulaff
Member- Free, Non-member- $25
Saturday, 2/11/2023
Perspective Lecture
Michael Berardesco
Member- Free, Non-member- $5 donation suggested
Saturday, 3/11/2023
Origami workshop
Carrie Dubiel
Member- Free, Non-member- $25
Saturday, 4/08/2023
Poetry Reading & Open Mic
Jane Ebihara
Free
Saturday, 5/13/2023
Pen&Ink Illustration
Workshop
Carl Ohlson
Member- Free, Non-member- $25
Saturday, 6/10/2023
EnPlein Air event: Car Pool to Annual Rose Day Festival
Rudolf W. van der Goot Rose Garden
156 Mettlers Rd., Somerset, NJ
Saturday, 7/15/2023
Picnic
Peggy Niece House
Summer Break
Saturday, 9/09/2023
Eco-Dying
Claire Rohloff
Member- Free, Non-member- $25
Saturday, 10/14/2023
Gouache Workshop
Aida Birritteri
Member- Free, Non-member- $25


Saturday, 11/11/2023
Watercolor Cardinal in Winter Workshop
Jean Perry
Member- Free, Non-member- $25


Saturday, 12/09/2023
Holiday Lunch
Gouache Workshop with Aida Birritteri - Saturday, Oct 14th, 1-3pm, Oxford Municipal Building, 11 Green St., Oxford, NJ
Aida will give us an introduction to painting with water-based gouache medium. We will explore working with the various attributes of gouache - its consistency, texture and matt finish as well as it opacity and transparency. We will create a palette by mixing colors with gouache using only two or three color pigments and creating layers with color.
Participants to bring: A beginners set of LUKAS Gouache water based paint (WCARTS will have some paint available for those who want to try this medium before buying a set), a variety of sizes of synthetic brushes that can also be used with acrylic paints, paper towels and 2 containers for water. A large white enamel pan (or similar) to use as a palette for mixing the colors. 11x14" pad of 140# cold press watercolor paper (WCARTS will have paper available if you don't have any).
This program is free for members, $25 for non-members (register in advance online using the button below)and was made possible, in part, through a grant from the Warren County Cultural Commission.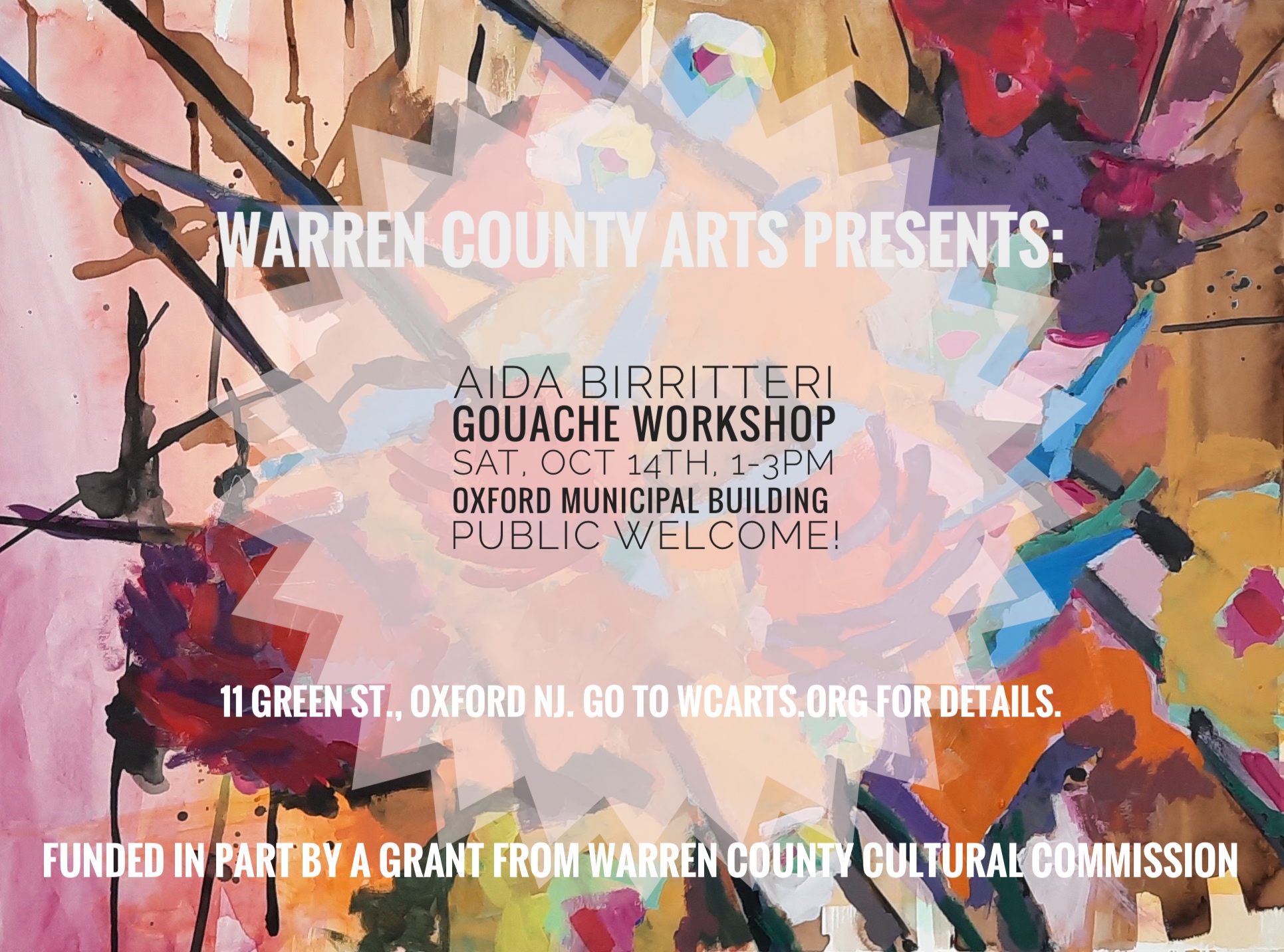 Artist Workshop 1 Day Retreat! - Saturday, Oct 21, 9-4pm

. Oxford Municipal Building. 11 Green St., Oxford, NJ.
Come recharge your creative batteries! You choose which of the two workshops offered in the morning to attend and which of the two workshops offered in the afternoon to attend. Lunch catered by Lost Ladies Cafe in Washington is included as is a light continental breakfast for $50 if you are a members of Warren County ARTS or $75 if you are a non-member. Most supplies are included, but a couple workshops do have items listed for the student to bring so check the workshop description so you are prepared.
Your choice of Instructor in the morning is either Michael McFadden - Collage as a tool of Discovery OR Colleen Puglia - Enameling. In the Afternoon you have a choice of either Carl Ohlson- Watercolor / Pen & Ink or William Martin - Painting with design, color & value (acrylics or oils). Please download the brochure attached below for more details about each workshop.
This program was made possible, in part, through a grant from the Warren County Cultural Commission.
All monthly meetings are on the 2nd Saturday of the month (1-3pm). Unless otherwise noted meetings are held in the Oxford Township Municipal building, 11 Green Street, Oxford, NJ 07863.
Depending onCovid 19 restrictions live programs may limit attendance and Face masks required. Social distancing observed.
Funding has been made possible, in part, by the Warren County Cultural &Heritage Division of Land Preservation.
Warren County ARTS - 2022 Art Exhibit Schedule - (exhibits held at the Oxford Municipal Bldg, 11 Green St., Oxford NJ unless otherwise noted.)
2023 Warren County ARTS Exhibition Schedule
Start
End
Exhibitor
Reception
Title/Theme
Entry Fee
14-Jan-23
4-Mar-23
Jean & Gordon Perry
29-Jan-23
Invitational exhibit
N/A
6-Mar-6
May
Spring Open Juried exhibit
3/26/2023
No Theme
TBD
May 6
July 29
Members only
6/4/23
Something New, Something Old, Something Borrowed, Something Blue
N/A
Aug
Oct
Open
8/6/23
"TRANSPORTATION"
$15 / $30
Nov
Dec
Open
TBD
Black & White.
TBD