Monthly Programs, Exhibits & Event Calendar
Warren County ARTS Corporation- 2023 Monthly Program Schedule
Month / Date
Topic
Speaker
Participant fee
Saturday, 1/14/2023
Handmade Book - Chain Link Binding
Pamela Dulaff
Member- Free, Non-member- $25
Saturday, 2/11/2023
Perspective Lecture
Michael Berardesco
Member- Free, Non-member- $5 donation suggested
Saturday, 3/11/2023
Origami workshop
Carrie Dubiel
Member- Free, Non-member- $25
Saturday, 4/08/2023
Poetry Reading & Open Mic
Jane Ebihara
Free
Saturday, 5/13/2023
Pen&Ink Illustration
Workshop
Carl Ohlson
Member- Free, Non-member- $25
Saturday, 6/10/2023
EnPlein Air event: Car Pool to Annual Rose Day Festival
Rudolf W. van der Goot Rose Garden
156 Mettlers Rd., Somerset, NJ
Saturday, 7/15/2023
Picnic
Peggy Niece House
Summer Break
Saturday, 9/09/2023
Eco-Dying
Claire Rohloff
Member- Free, Non-member- $25
Saturday, 10/14/2023
Open
Saturday, 11/11/2023
Watercolor Cardinal in Winter Workshop
Jean Perry
Member- Free, Non-member- $25
Saturday, 12/09/2023
Holiday Lunch
All monthly meetings are on the 2nd Saturday of the month (1-3pm). Unless otherwise noted meetings are held in the Oxford Township Municipal building, 11 Green Street, Oxford, NJ 07863.
Depending onCovid 19 restrictions live programs may limit attendance and Face masks required. Social distancing observed.
Funding has been made possible, in part, by the Warren County Cultural &Heritage Division of Land Preservation.
May 13, 10-12pm Traveler's Journal Book Making Workshop
. Oxford Municipal Building, 11 Green Street. Free for members, $30 for Non-members.
The Traveler's Journal is a great way to collect favorite papers together so the signatures can be easily replaced as needed while continuing to reuse a favorite cover.
While Traveler's Journals can have soft or hard covers, we'll be upcycling old hard cover books to use for our cover. You can bring your own hard cover book or use one that Pam will provide. A little bit of fabric can be used to jazz up the spine, or not – your choice. The interior pages will be made from 80# sulphite paper which is good for writing, journaling and light watercolor sketches and bound together with a simple pamphlet stitch. Once you learn this technique you can create replacement signatures using any paper that you want.
Tools & Supplies needed:
·

A Readers Digest or any old hard cover book that you're not going to mind cutting up(dictionary, novel etc) that is approximately 5.5" wide x 7.5" tall and with a spine that is at approximately 1" – 1.5" wide. Smaller or slightly larger books are fine too.

·

Pencil, scissors, craft knife or rotary cutter, ruler, cutting mat (self-healing or cardboard), sharp awl (or something similar to poke holes with), needle and some masking tape.

·

Glue Stick.

·

A thick magazine or book binding cradle would be helpful when punching holes in the signatures, but not required.

·

A strip of fabric that is approximately 6 times the height of the book & 2 – 3" wide. Useful if you would like to hide the spine of the book.
·

Decorative buttons are optional and can be added later at home.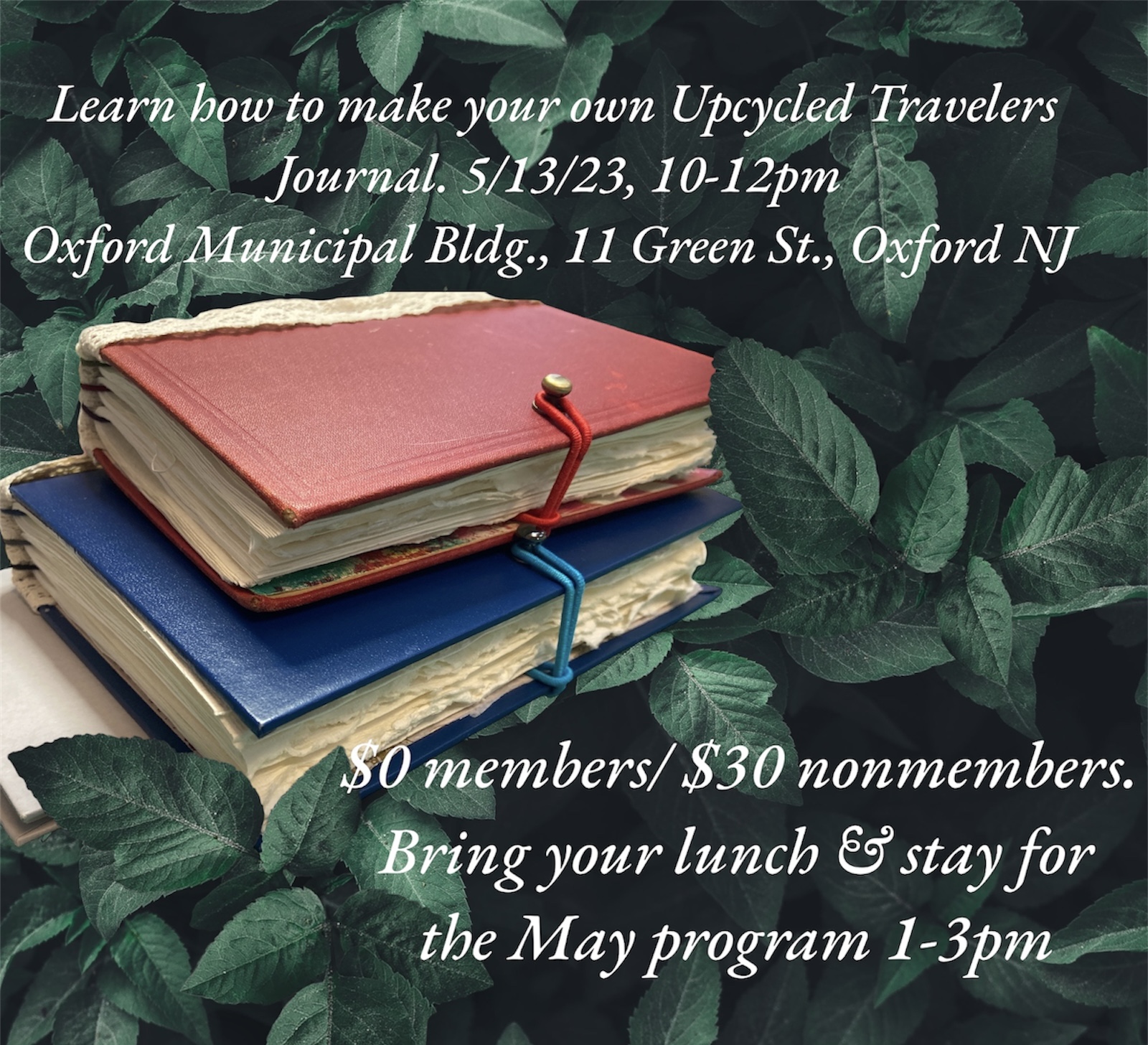 May 2023 Program - Pen & Ink Illustration Workshop with Carl Ohlson.
Join Warren County ARTS on Saturday, May 13th, 1-3pm in the Oxford Municipal Building, 11 Green St., Oxford, NJ for our May Program with Carl Ohlson. Open to the Public, $25 for non-members to participate, all materials provided. Registration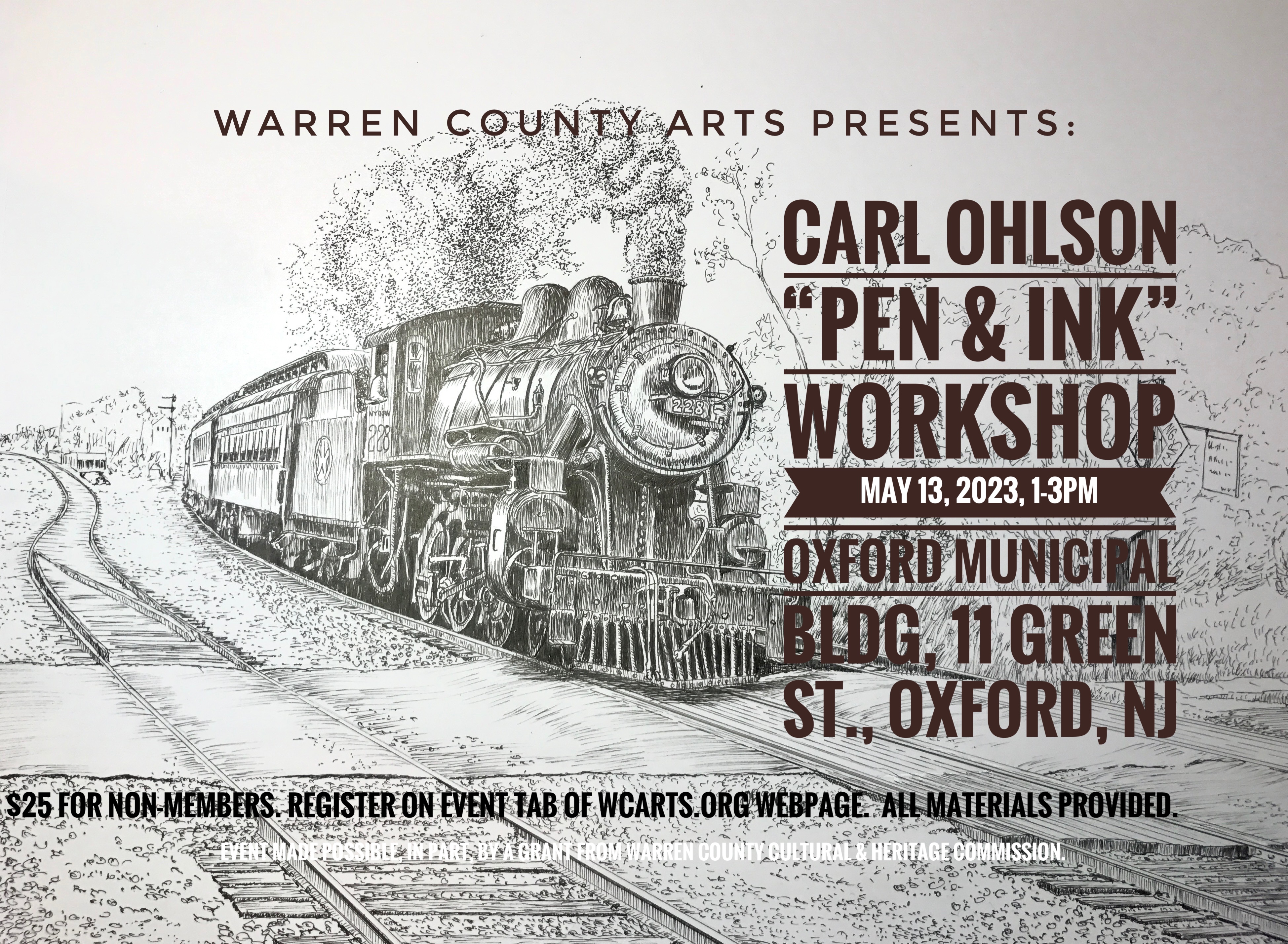 This program made possible, in part, by a grant from Warren County Cultural & Heritage Division of Land Use.
Warren County ARTS - 2022 Art Exhibit Schedule - (exhibits held at the Oxford Municipal Bldg, 11 Green St., Oxford NJ unless otherwise noted.)
2023 Warren County ARTS Exhibition Schedule
Start
End
Exhibitor
Reception
Title/Theme
Entry Fee
14-Jan-23
4-Mar-23
Jean & Gordon Perry
29-Jan-23
Invitational exhibit
N/A
6-Mar-6
May
Spring Open Juried exhibit
3/26/2023
No Theme
TBD
May 6
July 29
Members only
6/4/23
Something New, Something Old, Something Borrowed, Something Blue
N/A
Aug
Oct
Open
TBD
"TRANSPORTATION"
$15 / $30
Nov
Dec
Open
TBD
Black & White.
TBD
SOMETHING OLD, SOMETHING NEW, SOMETHING BORROWED, SOMETHING BLUE EXHIBIT - May 6 - July 29, 2023. Warren County ARTS Members only show. Oxford Municipal Building, 11 Green St., Oxford NJ. Main meeting room, lobby & hallway. Public welcome to visit the show & meet the artists during the Artists Reception on June 4th, 2-4pm.