June Meeting - David Blinder
Join us for the June Program with David Blinder, Macro Photography. The June program on Thursday 6/13, 7-9pm with David Blinder is open to the public. Free for members and $4 suggested donation for non-members.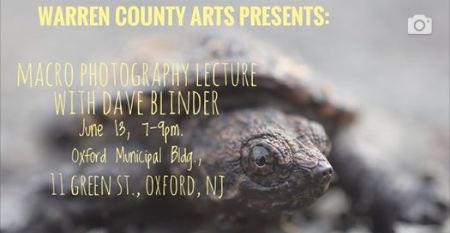 Join us for a program on macro photography by New Jersey nature photographer, Dave Blinder. Dave will present close-up images of dragonflies, butterflies, wild reptiles and amphibians.
Dave will discuss his favorite places in New Jersey to take macro photographs. We will review best camera settings and equipment for close-up photography. We will also go over lighting and technique for macro photography. Q&A will be available at the end of the program.
about Dave Blinder:
Dave is a landscape and wildlife photographer who focuses on the open spaces throughout New Jersey.
Dave's solo exhibit, Landscapes of New Jersey, spans all 21 counties of the Garden State and will be on exhibit in the Oxford Municipal Building June 22 - Aug 3rd. Artist Reception will be held July 14th, 2-4pm.
find Dave on the web:
http://daveblinderphotography.com
http://facebook.com/daveblinderphotography
http://instagram.com/daveblinder
Free for Warren County ARTs members, $4 for visitors.
Thursday June 13th, 7-9pm at the Oxford Municipal Building, 11 Green St., Oxford, NJ. Light refreshments will be available after the lecture.
Funding for this program has been made possible, in part, by a grant from the Warren County Cultural and Heritage Commission.
Warren County ARTS "At a Glance" Event Schedule for 2019.

Chronologically lists all events (programs, receptions, day trips, shows etc) consolidated by month.
Download PDF for a printable copy.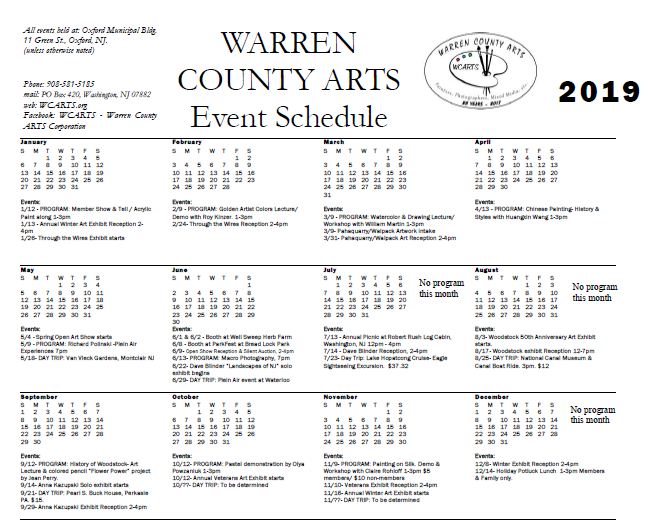 Warren County ARTS - 2019 Monthly Program Schedule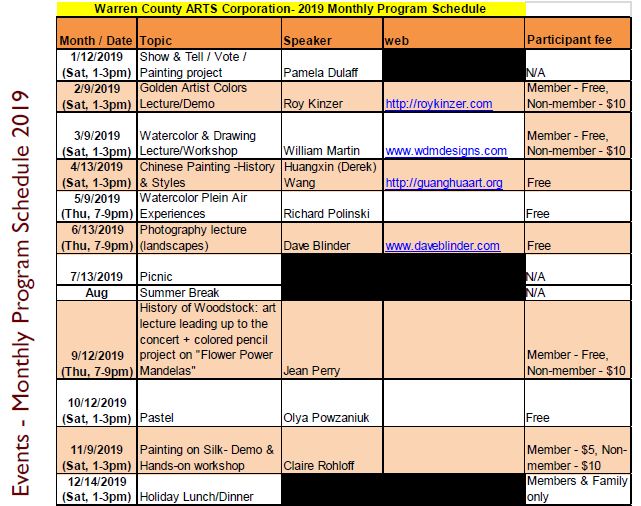 DURING THE WINTER MONTHS WCARTS WILL MEET ON THE 2ND SATURDAY, 1-3PM. SEE MONTHLY PROGRAM SCHEDULE. Meetings will return to 2nd Thursday 7-9pm after the change to Daylight Savings time. Unless otherwise noted all meetings are held in the Oxford Township Municipal building, 11 Green Street, Oxford, NJ 07863.
The public is welcome to all programs and refreshments will be served. Unless otherwise noted, a $4 donation is suggested for non-members attending.
Funding has been made possible, in part, by the Warren County Cultural and Heritage Commission.
Gallery Exhibit schedule 2019
Applications for shows are available to download from the Call for Artists tab.