Jean M. Perry Gallery -
______________________________________________________________________________________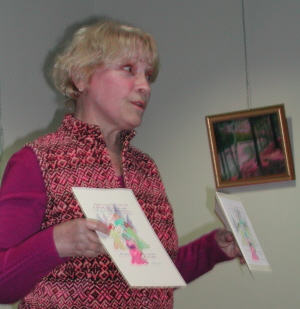 Jean Marie Perry has been an artist and art teacher for around 40 years. With an Art Education degree from Kean University, studying with Carl W. Burger, graduate work and a certificatin in Interior Design; Jean has created courses and special lectures in Art History for Fairleigh Dickinson University and special interest groups- such as the National Canal Museum, Pennsylvania Canal Society, Warren County ARTS, Monroe County Historical Association and others.
Jean also conducts studio classes in drawing and painting for children and adults at the Pocono Arts Council, Kettle Creek, Northampton Community College, Chestnuthill Park and art groups.
Jean's artwork focuses on nature, including landscapes, flowers and birds, as well as historical sites. Her special interest in this and inthe study of art came from her father, Gene Paccioretti, a proficient artist, who painted nature and places in his surroundings, now historical.. etc. Jean is especially interested in the style of the Connecticut and Pennsylvania Impressionists.
With her husband, Gordon, Jean has had many special exhibits and has won numerous awards. Her work has sold internationally to both private and public sectors. Gordon, an artist himself, has been her greatest encourgement.
Jean's philosophy and inspiration comes from the natural beauty around us and the belief that one should express inward significance, not necessarily outward appearances.
Jean is available for special lectures and classes and can be contacted at 570-992-2598 or via email: JPMobeel@epix.net