Jean M. Perry Gallery -
______________________________________________
Jean is available for special lectures and classes and can be contacted at 570-992-2598 or via email: JPMobeel@epix.net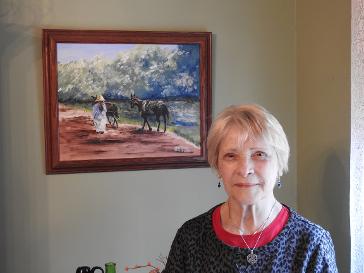 About Jean Perry
Jean came from a creative family, so her career as an artist and art teacher was predestined! Her father was a prolific artist and an archaeological draftsman during Paterson's Morris canal restoration and her mother was a talented seamstress. So when it came to deciding a major at Kean University, Jean graduated with a degree in Art Education and continued on with studies in Art Therapy and extensive research in Art History. She also obtained a certification in Interior Design.
After teaching Art and Art Therapy classes in the N.J. public school system, Jean started numerous art programs on both campuses of Northampton Community College, where she spent 20 years. When being invited to teach an "Art Appreciation of Sport" course at Fairleigh Dickinson University in Madison, Jean continued developing and coordinating courses with FDU's varying academic departments, resulting in "Women Artists", "Biological Illustration", "Spanish Art and Its Influence on America" and "American Impressionism". She spent 15 years at FDU.
Jean continues to give special lectures and studios for special interest groups and conducts art workshops regularly for Carbon County Environmental Ed Center and her church. Her own artwork focuses on nature, historic scenes, flowers and her pet kitties. Her favorite artists have always been the American impressionists, especially Robert Spencer, Fern Coppedge and Edward Redfield of the New Hope school and Theo Robinson of the Connecticut impressionists. Her artwork often reflects their style and is based on her own photos. Her work has been published by the Pennsylvania Canal Society, Skylands, the Arthritis Foundation, and her painting of "Bread Lock Park" is in their museum. Jean is also a regular writer for the Pennsylvania Canal Society newsletter.
Because of a strong interest in canals and mills, Jean and her husband, Gordon, co-authored a booklet on the textile mill industry, "From Bobbins, Spindles and Shuttles", sold to historic districts.
Professionally, Jean is a member of Warren County Arts, Pocono Arts Council, Carbon County Environmental Ed Center, Palmerton Camera Club, and N.J. and Pennsylvania Canal Societies.
Jean has a respect for all artists, including beginners, and enjoys bringing out their best. When asked before graduating Kean what her philosophy was, Jean replied, "There is something in art for everyone". She has believed in this thought forever.