WCARTS

captures life's creative moments!
20TH SPRING OPEN SHOW RECEPTION & AWARD CEREMONY - MAY 7, 2-4PM YOU DON'T WANT TO MISS IT!

MAY 11TH- MONTHLY PROGRAM BY ANJU SARAN.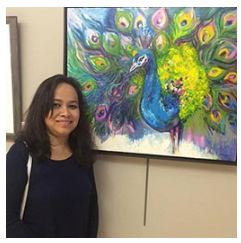 Anju will demonstrate a seascape with waves from a photograph of her own, explaining what art materials will be used and how to start painting with focus on the 'values' not so much into details or colors. It is kind of block-ins and gradients. In the beginning Anju will use a larger brush to create the atmosphere, feel of the subject and not so much to define the shape. After the block-ins the 'relative values' can be applied. At this stage, more details can be added into the painting. The middle stage of the painting will look more like impressionistic. As the foreground and background of the painting gets clearly defined, Anju will slowly move to lighter shades. In a nutshell, she will start the painting mostly with darker values and move to a mid-range and later add relative values and lighter shades. Other applications could be splattering, glazing, moving brush strokes loosely, add texture and knife strokes. As the painting moves to an advanced stage Anju will focus on finer details and can use liner or thin brush to add more details. Note that it's not possible to complete the entire painting in a 2 hour session but she will try to show the techniques she uses while painting.

ABOUT US
Our Mission - As an organization we work to promote the advancement of the arts in Warren County, New Jersey and provide venues for artists with a variety of programs. Our goal is to provide the community with an opportunity to experience many artistic disciplines.
President: Patti Tivnan

Vice President: Kathleen Jusko

Secretary: Carol Zielinski

Treasurer: Nancy Caryl Geiger


Programs: Pam Dulaff

Exhibitions: Brian Daum

Publicity: W. Reynolds

Communications: Pam Dulaff

Membership: Nancy Caryl Geiger

Refreshments: Shirley Spangler

Historians: Pat Olds

Grant writing: Carol Zielinski
Warren County ARTs welcomes anyone who is an artist, wants to be an artist or just likes hanging out with artists! Please stop by the Oxford Municipal Building on 11 Green Street In Oxford, NJ 07863 at 7pm the second Thursday of each month and see what we are up to! We meet once a month eleven times a year. We do not meet in August as many people are busy doing summer things. Each meeting has an exciting program to stimulate and educate. A monthly newsletter is sent out to keep members apprised of artistic happenings- both within the group and elsewhere in the Tri-state area.
Each Spring we sponsor the Spring Open Show for area artists 18 yrs & older - members & non-members. We also provide 2 members-only shows each year and members have the opportunity to have a solo or group exhibit in the Oxford Municipal Gallery.
We have several field trips each year for the membership to provide an educational opportunity or unique venue to create art of our own.

LIKE US ON WCARTS Facebook Page
Warren County ARTS Corporation is a not for profit 501 (c) (3) organization.
WCARTS.org, PO Box 420, Washington, New Jersey