WCARTS

captures life's creative moments!
Warren County ARTs in Warren County, New Jersey was pleased to celebrate it's 25th Anniversary in 2017. As we have in the past we will continue to encourage anyone who is an artist, wants to be an artist or just likes hanging out with artists to join us!
Please stop by the Oxford Municipal Building on 11 Green Street In Oxford, NJ 07863 each month and see what we are up to! Please check out the Event Calendar tab for specifics regarding Dates & Times for the monthly program. We meet once a month eleven times a year. We do not meet in August as many people are busy doing summer things. July is our annual picnic and December is a holiday PotLuck dinner.
Each meeting has an exciting program to stimulate and educate. We are a mixed group of artists and the variety of programs reflects our diversity - woodturning, photography, painting, writing, dance, music - you name it!
A monthly newsletter is sent out to keep members apprised of artistic happenings- both within the group and elsewhere in the Tri-state area. Check out the Event Calendar tab for the monthly program and Gallery Exhibit Schedule. The current program Press Release is also on the Event Tab.
Each Spring we sponsor a Juried Spring Open Show for area artists 18 yrs & older with awards & ribbons. We also offer numerous shows throughout the year and members have the opportunity to have a solo or group exhibit in the Oxford Municipal Gallery. Every exhibit has an Artist's Reception and is a great time to come meet the artists, see all the work & enjoy yummy refreshments!
We have several field trips each year for the membership to provide an educational opportunity or unique venue to create art of our own.

Memberships, donations and sponorships are easy to sign up for using the buttons on our Membership tab.
LIKE US ON OUR FACEBOOK PAGE
Warren County ARTS Corporation is a not for profit 501 (c) (3) organization.
Join us for the June Program with David Blinder, Macro Photography. The June program on Thursday 6/13, 7-9pm with David is open to the public. Free for members and $4 for non-members. See more program information on the Event tab.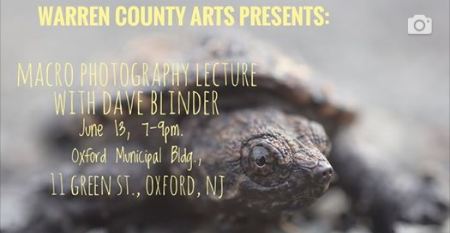 Free for Warren County ARTs members, $4 suggested donation for visitors.
Thursday June 13th, 7-9pm at the Oxford Municipal Building, 11 Green St., Oxford, NJ. Light refreshments will be available after the lecture.
ABOUT US
Our Mission - As an organization we work to promote the advancement of the arts in Warren County, New Jersey and provide venues for artists with a variety of programs. Our goal is to provide the community with an opportunity to experience many artistic disciplines. We welcome all artists & art appreciators to join us!
Board of Directors:
President: Pam Dulaff

Vice President: Kathleen Jusko

Secretary: Carol Zielinski

Treasurer: Peggy Niece


Members at Large: Bill Reynolds
Committee Chairs:
Programs: Pam Dulaff

Exhibitions: Brian Daum

Publicity: Bill Reynolds

Communications: Pam Dulaff

Membership: Peggy Niece

Refreshments: Kathleen Jusko

Historians: Pat Olds
WCARTS.org, PO Box 420, Washington, New Jersey